Press

"Wisdom Audio, Runco and Seymour-Screen Excellence (on a 21 foot Enlightor-4K acoustically transparent screen) delivered the best large venue home theater experience I have ever had."
- Gary Reber, editor


From the Wisdom Audio room: "Throw in a Runco projector, a 21-foot-wide 2.40:1 Seymour Screen Excellence screen, a Datasat processor, Lab.gruppen amps, and Peter Gabriel's "Mercy Street," and you've got the makings of a memorable demo."



7 Must-See Demos at CEDIA Expo 2013: Wisdom Audio, Runco, Lab.gruppen, Transparent Audio, and Seymour-Screen Excellence feature a 271" diagonal Enlightor-4K screen, Wisdom 10' tall line array speakers, 60kW of Lab.gruppen amplifiers and a new Runco projector.
- CEPro, pre-CEDIA 2013 coverage.
Artcoustic Loudspeakers selected a Screen Excellence RF Acoustically Transparent 170" home theater screen for use in their stunning home cinema demonstration facility.
- Screen Excellence Blogspot, June 2013

"The foundation of the MFR is S-SE's Enlightor-4K woven-fabric acoustically transparent film screen surface. This 0.98 gain surface is both ISF-certified for color purity and has no visible holes, weave, texture, or minimum seating distance."
Residential Systems, May 2013
Reasons why Acoustic Frontiers choose to feature Seymour-Screen Excellence screens.
- Nyal Mellor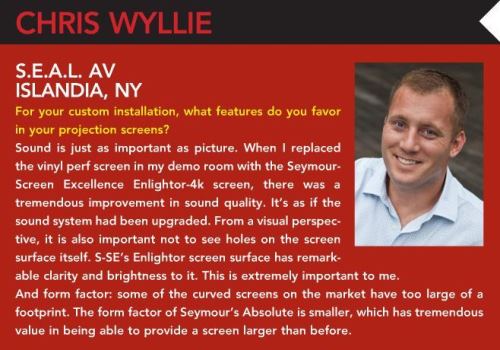 "The build quality of this blank canvas is exquisite."
- Steve May, The Register, September 2012

"Seymour-Screen Excellence showed its new, acoustically transparent screen that does the job without an obvious weave or visible perforations."
- Tom Norton, Sound & Vision, September 2012
Seymour-Screen Excellence shows retractable screen with ISF rated 4K material
- Rave publications, CEDIA, September 2012
Seymour-Screen Excellence highlights Absolute AT screen...
- Rave publications, CEDIA, September 2012

"Hiding the speakers behind an acoustically transparent screen heightens this effect. Projecting the image on a curved screen makes it even better. Now Seymour-Screen Excellence has combined both those techniques in the Absolute Acoustically Transparent home theater screen."
- Grant Clauser, Electronic House, August 2012

"I used the JVC XC70 with a 120-inch Seymour-Screen Excellence Enlightor-4K screen. This acoustically transparent screen is constructed of such an invisible micro weave that you need to put your nose on it to see the texture. I could pull my seat two feet closer from where I normally sit with my DLP projector, for a more immersive experience."
- Grant Clauser, CE Pro, August 2012

EDITOR'S PICK: "The quality of the sound was unaffected by the material, and only required a level adjustment to match speakers not behind the screen."
- Grant Clauser, CE Pro, May 2012

"The Seymour-Screen Excellence Enlightor-4K material proved that it could deliver on both picture and sound fronts by displaying a gorgeous, rich picture that wasn't marred by the presence of speakers placed at an unnatural level."
"I have a small Stewart Grayhawk which I moved in front of the [Enlightor-4K] so I could compare the two - colors, especially yellow, on the [Enlightor-4K] were more vibrant when viewed in a dark room."
- Grant Clauser, Electronic House, February 2012

Screen Excellence Enlightor-4K Adopted by JVC UK
"Steven Carter of JVC told Inside CI that he's delighted with the performance of the screen, both with Full HD 2D and 3D source material. So much so that the TAM-CH is now a permanent part of the brand's 4K home cinema demonstration suite."
- Steve May, Inside CI, January 2012

CEDIA 2011, Best Home Cinema Installation over £100,000, FAB Audio Visual "Arabian Nights." "FAB Audio Visual's Arabian Nights project was a clear winner thanks to its 'amazing sound system.' The judges praised the room's 7.1 surround sound system, complete with two Genelec HTS4B floor level subwoofers and two Genelec A1W312 active hidden monitors, concealed on either side of the 120" wide screen. The Screen Excellence acoustically transparent screen also conceals the HT312 center speaker."

"You can put your nose right up to the screen and not see a hole anywhere. It does look like a solid-surface screen."
"Because there are no traditional holes in this fabric, sound travels through the screen material differently. There is an attenuation, but it is a relatively uniform full-range attenuation from low bass to high frequencies. That means no tonal change to the system. And it also means that a simple level change of +2dB is all you need..."
"The performance of the S-SE screen is clearly better than acoustically transparent alternatives."
"The Seymour-Screen Excellence Enlightor-4K screen provided a much-improved viewing experience compared with other acoustically transparent screens... In fact, it was so good, that for the first time ever, I started to dream about a room remodel that would place the screen in a cinema-like 'stage' with nothing visible but the screen."
"...these are certainly the best images I've seen from an acoustially transparent screen so far."
- Doug Blackburn, Widescreen Review, November 2011

"If we were in the market for a fixed-frame front projection screen, we know we'd look closely at what sort of system Seymour-Screen Excellence could put together that included the masking panels. That's a pretty sweet deal no matter how you look at it."
- Tom Andry, Audioholics, October 2011

"What's more, once it's fully extended, it has enough tension to look as flat and 'solid' as a fixed frame screen. It's good, too, to see the screen framed by a really light-absorbing black velvet border... The RM2-T never once betrayed a hint of fabric screen structure from any sort of remotely sensible viewing distance. And the screen resolved Avatar's extraordinary detail levels and perfect depth handling with seemingly effortless accuracy that was just superb."
- John Archer, Home Cinema Choice, Awards 2011

CEDIA 2010, Best Home Cinema Installation over £100,000, FAB Audio Visual "Gentleman's Club." "FAB Audio Visual scores the CEDIA Awards hat-trick with what the judges praised as a 'technically flawless solution which will deliver an awesome sound.' The room boasts two Genelec HTS4B subwoofers at floor level and three Genelec HT315 active monitors behind the 120" wide 2.37:1 Screen Excellence acoustically transparent side-masking screen."

CEDIA 2010, Best Home Cinema Installation £40,000 to £100,000, FAB Audio Visual "The Grey Room." "FAB Audio Visual triumphs again with this 'awesome cinema which was technically well thought out.' Audio is delivered by two Genelec subwoofers at floor level and three Genelec active monitors located behind a 120" wide Screen Excellence acoustically-transparent screen."

CEDIA 2010, Best Home Cinema Installation under £40,000, FAB Audio Visual "Subterranean." "The client wanted the best cinematic experience possible, and boy did FAB AV deliver. Deemed by the judges to be a 'well considered and technically outstanding home cinema installation.' This now award-winning set-up includes three Genelec A1W26 active in-wall speakers, which sit behind and beside a 110" wide 16:9 Screen Excellence acoustically transparent screen."

"What do you get when you combine innovative retractable screen technology and unique screen material design? In this case, that would be Seymour-Screen Excellence (SSE). And no, the Seymour part isn't a play on 'see more' as one might suggest for a projection screen manufacturer's motto"
- Arlen Schweiger, CE Pro, November 2010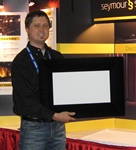 Seymour-Screen Excellence exhibits its 4K screen material...
- Rave publications, CEDIA, September 2011
Seymour shows off their woven screen technology...
- Rave publications, CEDIA, September 2010

"US-based Seymour AV and UK-based Screen Excellence - both industry leaders in acoustically transparent woven fabric projection screens - have founded a joint venture that combines the best of each company's technology platforms, namely Seymour AV's patented electric retractable screens and Screen Excellence's fixed-frame and masking screens."
- Gary Reber, Widescreen Review, August 2010

"The pixels of the new ultra-high resolution 4K projectors are even smaller than the threads in a typical woven projection screen. Only a handful of 4K projectors even exist, yet Screen Excellence has already addressed this problem with its Enlightor 4K material, which looks more like a fine fabric than a typical woven screen."
"The Enlightor 4K's finely woven material appealed to the perfectionist videophile in me ... it definitely looked better close up. It was the only woven screen that could resolve the JVC projector's pixel pattern. I imagine that with a 4K projector, the difference would be even more dramatic."
- Brent Butterworth, Sound & Vision Magazine, June 2009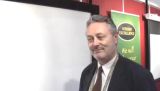 Patrice Congard discusses our 4K screen material and TAM2-L constant image height masking system.

To follow us on facebook, click here.

To follow us on twitter, click here.