This Text is hidden
Subtext goes here.... Can you dig it?
True Aspect Masking 2-L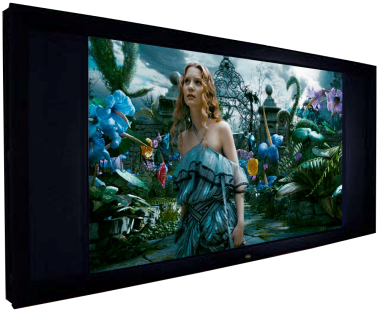 Imaging is optimum when the projected image is exactly bordered by our Infinite Black™ velvet borders, providing a significant contrast enhancement together with a real focus on the image. With the varying aspect ratios of movies, the True Aspect Masking screen masks to adjust the black borders of the image to its actual size.
The True Aspect Masking screen is an acoustically transparent projection screen using the Enlightor 4K screen fabric, provided with automated masks controlled electronically for a complete, versitile masking with any home automation system. It can also be simply controlled by IR or RF remotes.
The constant height (CH) screen uses two independent lateral acoustically transparent masks. It is therefore the ideal match with anamorphic lenses which expand a 16:9 native aspect ratio to 2.37.
Exclusive to Seymour-Screen Excellence is that the frame width is exactly the same (3.7") as the Reference Fixed frame screens, due to it utilizing the same frame profile. Only a slightly rearward extension hides the motor and masking assemblies, with the total depth being 5.5". When comparing automated masking screens, Seymour-Screen Excellence's TAM screens are the sleekest, most sophisticated available anywhere.
| 2.37 | Image W | Image H | Image D | Total |
| --- | --- | --- | --- | --- |
| TAM 2-L 70 | 70.0" | 29.5" | 76.0" | 77.5"x37.0" |
| TAM 2-L 80 | 80.0" | 33.7" | 86.8" | 87.5"x41.2" |
| TAM 2-L 90 | 90.0" | 37.9" | 97.7" | 97.5"x45.4" |
| TAM 2-L 96 | 96.0" | 40.5" | 104.2" | 103.5"x48.0" |
| TAM 2-L 100 | 100.0" | 42.1" | 108.5" | 107.5"x49.6" |
| TAM 2-L 110 | 110.0" | 46.4" | 119.4" | 117.5"x53.9" |
| TAM 2-L 120 | 120.0" | 50.6" | 130.2" | 127.5"x58.1" |
| TAM 2-L 130 | 130.0" | 54.8" | 141.1" | 137.5"x62.3" |
| TAM 2-L 140 | 140.0" | 59.0" | 151.9" | 147.5"x66.5" |
| TAM 2-L 150 | 150.0" | 63.2" | 162.8" | 157.5"x70.7" |
| TAM 2-L 160 | 160.0" | 67.5" | 173.7" | 167.5"x75.0" |